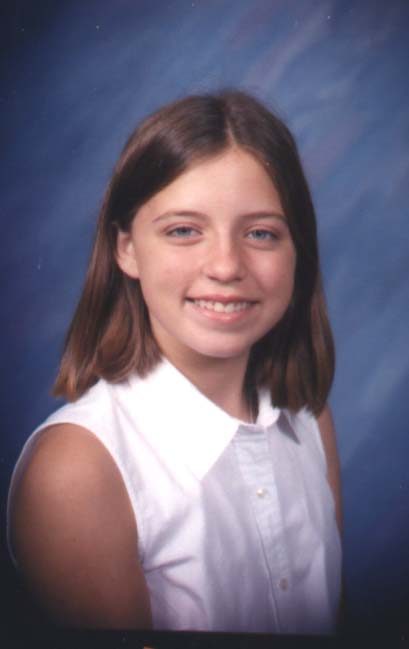 The following page contains updates regarding Mary Beth's Journey for September of 2002.
Links to other pages:
Home / Pictures / Mary Beth's Obituary

If you wish to contact Mary Beth's family, you may do so through contact us.
For years to come, Will can tell the story of his first day of kindergarten and laugh more than he did this afternoon as his entry into school was unfolding. He was very mature about entering his classroom, finding his cubbie for his lunch box and backpack and venturing to his desk. He waved good bye with a smile and Sheila and I left knowing he would have a great day. About 1:15 PM, Sheila received a call about a playground accident in which Will hit the pavement by softening the blow with his forehead, nose and cheek. The thing he was most upset about were his glasses which ended up so scratched he could not see through them. He was able to share at dinner time all the fun things about his day through his strawberry colored face and is very excited to return for his second day.
God bless you,
Gerry
So many of us take our health for granted that we fail to pause and thank our Lord for granting us this gift. As you read this, pause and take a moment to give thanks for your health and the health of those around you. We give thanks for the restoration of health of Cathy McLaughlin, mother of Lauren, one of Mary Beth's friends and classmates. We heard from Lauren that Cathy is fully recovered from breast cancer which was diagnosed about one year ago. Thank you for the prayers in her behalf. We ask for your continued prayers for our friend Joan Milburn who is currently undergoing for breast cancer. May God see over her and her family and provide a long healthy life for all of them.
God bless you,
Gerry
Those who believe in superstition say that Friday the 13th is an unlucky day. I like to treat every day as a holiday and do not believe luck (good or otherwise) has much to do with events that occur. Some days (holidays) are better than others and are more enjoyable. For instance, as we remembered the victims of one year ago on Wednesday at mass at Pillar, this was one my more challenging days, especially when contrasted with coaching a group of kindergarten boys yesterday. But, regardless of what occurs on a daily basis, there is good happening all around us. Perhaps it is such an idiosyncrasy of human nature to dwell on the negative and certainly this type of news in more sensational and attention grabbing as the media has proven. So look for the good in others today, walk under ladders, have black cats cross your path, break mirrors and enjoy life.
God bless you,
Gerry
After Mary Beth left us, we received correspondence from Father Oscar Lukefahr, C.M. seeking permission to use Mary Beth's story in his latest book entitled, "The Search for Happiness - Four Levels of Emotional and Spiritual Growth". His book is now in print and he sent us a copy explaining that Mary Beth's story has been an inspiration to him. By including her story in this media, he hopes to inspire others as well. We wish to thank Father Lukefahr for granting Mary Beth a special place in his writings and wish him continued success in his ministry. Pick up a copy and see what he has to say.
God bless you,
Gerry
On Saturday we had a wonderful experience by beginning our day with a walk for childhood cancer in Queeny Park sponsored by the National Childhood Cancer Society. It was great to meet a lot of Mary Beth's classmates from St Joe walking in her memory and volunteering to work the booths as well. Several Angels Helping Angels were also present volunteering. I just saw the latest issue of the Ladue News and gracing the cover is a photo of kids afflicted with this dreadful disease promoting a fashion show for Friends of Kids with Cancer. Seeing this and walking on Saturday made me reflect on how many children are battling for their health daily, not only from cancer but from a myriad of other diseases as well. When you say your daily prayers, please consider including all these children and their families who are in need of our prayers so God will grant them the strength to face life's challenges.
God bless you,
Gerry
Home / Top of page / MB's Obituary / August - 02 / October - 02