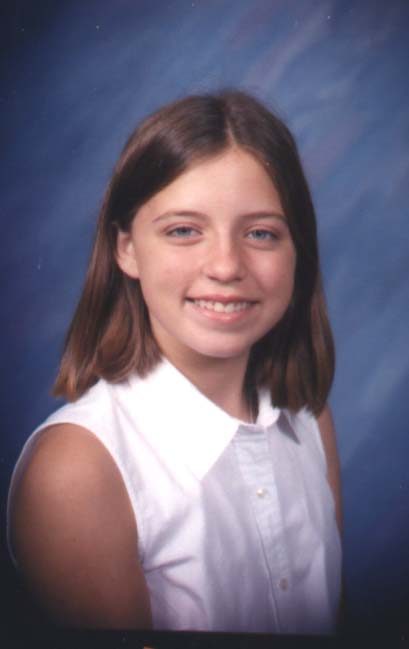 Mary Beth's Angels Foundation was created as a not-for-profit public charity for the benefit of underprivileged children in mid-January 2001. It is designed to live out the lifelong dream of the most courageous and faith-filled person we know, Mary Beth Ricken.
Mary Beth did not realize her dream of helping these children because cancer took her life on January 23, 2001 at the age of 15 years, 1 month, and 16 days. She fought her battle with grace and dignity over the course of 15 months since being diagnosed on November 9, 1999.
She accepted the role God planned for her without ever complaining about her condition. MB had a smile that would light up any room, a contagious laugh that brought a smile to all who heard it, and a tremendous sense of humor. Her personal motto was "Life is Short, Laugh Hard!"
Above all, she had a warm heart of compassion for all who were less fortunate that she. Her long term plans included becoming a pediatric oncologist focusing on treating children with cancer and researching to find a cure. She wanted to volunteer her time assisting underprivileged children, concentrating on specific areas of need including hunger, cleanliness, education, and illness. Proceeds are currently being distributed to existing non-profit organizations and programs meeting the criteria of this focus. These organizations include but are not limited to: New Hope Food Pantry, H.I.S. K.I.D.S., Saint Louis Children's Hospital, HUGS, SSM Cardinal Glennon Children's Hospital, Our Little Haven and the Mary Beth's Angels Foundation Scholarship Fund at Saint Joseph's Academy.
By supporting Mary Beth's Angels Foundation, you will be providing much needed assistance to the children who are in most need of your love and support. On behalf of our angel Mary Beth, we thank you from the depths of our hearts. To find out more about Mary Beth and her journey to God's kingdom, you may read the rest of her web site.
Love and God Bless You,
Gerry, Sheila, Barbie, Heidi,
and William Ricken
Mary Beth's Angels Foundation
43 Chaminade Drive
Saint Louis, Missouri 63141
(314) 997-1455
(314) 721-6609 Facsimile
sheila@marybethsangels.org